Ingrown toenail surgery Hobart provides high-quality procedures to cure ingrown toenails.
An ingrown toenail is a very common and extremely unpleasant problem presenting to our podiatry practice. They are caused when the nail is incurvated (turned in) and penetrates the skin. Although a relatively minor complaint they can be extremely painful and if left untreated can result in swelling, infection, and more serious problems. Athletes, kids, and the elderly often suffer from ingrown toenails and it makes up around 20 % of foot problems seen at our clinic. They are usually easily and painlessly treatable by a Podiatrist however some may require a small in-clinic procedure.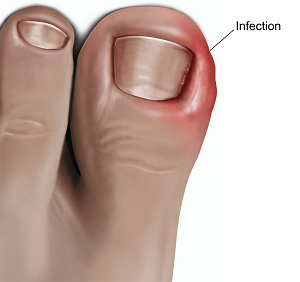 Ingrown toenail surgery is a safe and effective procedure for permanently addressing ingrown toenails. Podiatrists are the best placed medical professional to perform this procedure as they complete these procedures many times per week.
If there are signs of infection and considerable pain, a person should not delay seeking a Podiatrist as the infection could spread. Antibiotics are sometimes used to treat the infection but most often the nail needs to be removed before your body can heal and solve the infection itself.
People should seek immediate medical care for people with conditions such as diabetes, nerve damage, or poor circulation.
Contact Us Today
What is Ingrown Toenail Surgery?
Ingrown toenail surgery often called a wedge resection, partial/total nail avulsion is a procedure that takes place under local anesthetic. The procedure treats ingrown toenails by removing the offending nail edge from where it is penetrating the skin. The nail is taken back to the base and removed, often a chemical called phenol is used to kill the nail bed in that area to permanent stop the ingrown toenail.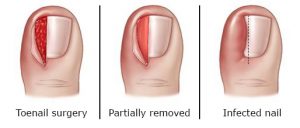 When is Ingrown Toenail Surgery Necessary?
The indication for Ingrown Toenail Surgery is usually advised to patients under the following circumstances;
Longstanding ingrown toenails that continue to re-occur
Multiple Infections and severe pain
Poor nail shape due to fungus, thickening or curvature
Sports & Activities that increase the likelihood of re-occurrence
Hereditary component to ingrown toenails
Co-Morbidities like diabetes or peripheral vascular disease
Ingrown toenail surgery carries some risks. An initial assessment to understand your presenting complaint and medical history is an important first step before undertaking such a procedure. We always advise seeking a standard consultation with our podiatry team beforehand to be assessed comprehensively.
Contact Us Today
Ingrown Toenail Surgery Procedure Outline
An injection of local anesthetic is administered into the toe
The offending nail edge is cut out at the nail bed
A chemical is placed in the nail bed to prevent regrowth
The toe is cleaned and dressed with antiseptic to minimise infection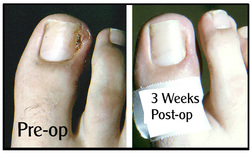 There is a small wound present for around 3-4 weeks but the nail will now not grow into the region which solves the problem permanently. There are very few complications and success rates are very high. Podiatrists complete many of these procedures weekly and are highly trained to give you the best outcome.
Quick, Simple & Guaranteed Results
The first step is booking an initial consultation at Claremont Podiatry to have your ingrown toenail assessed adequately and an appropriate treatment plan discussed with you.
Contact Us Today
Good and timely treatment by a qualified podiatrist experienced in ingrown toenail removal should be utilised other than band-aid approaches like antibiotics and home treatments. We will always make sure you get an appointment with us even at short notice.
Call our friendly receptionist on (03) 6249 1155 to make an appointment or answer any further questions you may have.